While for some individuals social networking sites can just be a virtual place to share thoughts and have fun. For companies and multinational giants, social networking sites could mean real business. In order to take advantage of the different opportunities arising in markets, savvy business owners need to know and use several social media platforms to stay in the game.

Networking sites have really molded the way information was shared. By completely altering the digital era, social media has confined the traditional ways in which business relationships used to begin. Where we used to have word-of-mouth referrals and recommendation letters, today's relationships are often sparked and maintained on Facebook, Google+ and LinkedIn.

The Fermentalist has analyzed 5 best social networking sites based on the criteria of enquiries, brand exposure and traffic they can divert to your websites. You can figure out which social networking platform best suits your promotional strategy and could help you in getting your message across the target audience effectively.



---

​
​Zoya Naeem

A girl with a flair to write. While everyone wants to take out time to draw a couple of letters and words, I believe we can write whenever we feel like.

A day without learning is a day completely gone to waste, so I keep myself updated everyday with what's happening.

The Fermentalist is the only place I feel I can connect to the world in a very healthy and a much productive way. My blog is an attempt to help everyone and target all the issues and topics you can think of.


Powered by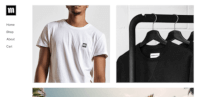 Create your own unique website with customizable templates.